f a n a r t



27 Fanarts
24 FullMetal Alchemist fanart(s)
01 Harry Potter fanart(s)
02 Hana Yori Dango fanart(s)

---

FMA owns my soul, period. And EdWinry and AlMei pwn YOUR OTPS xP.

( Over fifteen EdWinry fanarts )

Here are previews of some -->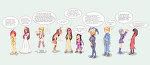 Enjoy, and please tell me what you think! :D

X-Posted at: Too many damn places.